Patient Forms, Map and Directions to Fresh Meadows Office
Planning your first visit to Queens Endoscopy ASC? On this page, you'll find the information you need to get started, such as a map and directions to our Fresh Meadows office.
Mission Statement
Queens Endoscopy ASC, LLC is a state-of-the-art ambulatory endoscopy center dedicated to providing high-quality healthcare service, patient care and operational excellence.
We strive to make your stay with us as pleasant as possible by providing quality care in a warm, caring, personalized and professional environment.
---
Appointments
To make an appointment or for more information, call (718) 425-3300.
---
Patient Forms
For your convenience, our patient forms are located below. Please download, print and complete the following forms so we can expedite your first visit:
In order to view or print these forms you will need Adobe Acrobat Reader installed.
Click here to download it.
---
Insurance and Billing
Please contact our office to verify acceptance of your insurance plan or please see Billing Inquiries . Qualifications for insurance coverage may differ due to the uniqueness of each procedure. For any billing questions please call ( 813) 815-0637
Payment Options
Please see Billing Inquiries for details.
---
What To Expect
Being well-prepared for your appointment will ensure that the doctor has all of the needed information to provide the best possible care for you. It will also help alleviate any unnecessary anxiety you may be feeling prior to your first appointment. Educate yourself on your symptoms by reviewing the content on this website. Also, take some time to review our staff page and familiarize yourself with the doctors. We look forward to your first visit.
---
Driving Directions
Queens Endoscopy is located on the ground floor of 176-60 Union Turnpike. The entrance to 176-60 Union Turnpike is located on the South side of Union Turnpike, half a block East of Utopia Parkway.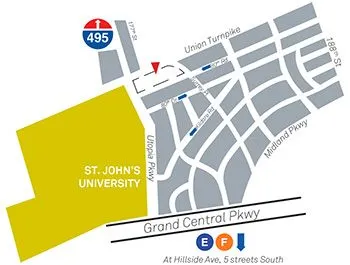 ---
PUBLIC TRANSPORTATION:
Patients can connect from either the E or the F train at Union Turnpike station and take the QM 1, 5, 6, 7 & 8 East to the center. Alternatively, patients coming from the North or South can take Route 30 and 31 to the corner of Utopia Parkway and Union Turnpike.
BY CAR:
From Eastern Queens/Nassau: LIE West to Utopia Pkwy (Exit 25), left on Utopia Pkwy, left on Union Tpke.
From the West (Flushing, Corona, Astoria): LIE East to Utopia Pkwy (Exit 25), right on Utopia Pkwy, left on Union Tpke.
Northern State/Grand Central: To 188th St (Exit 19), right on 188th St, left on Union Tpke.
From the South (Ozone Park, Rockaway): Van Wyck North to Main St, then follow Main St to Union Tpke. Right on Union Tpke and follow for about 1.5 miles to Union Tpke and Utopia Pkwy.
Cross Island: Go past Union Tpke to Exit 29 West (Grand Central). Grand Central to 188th St (Exit 19), right onto 188th St left on Union Tpke.
Clearview Expy (South): To Union Tpke (Exit 2), right on Union Tpke.